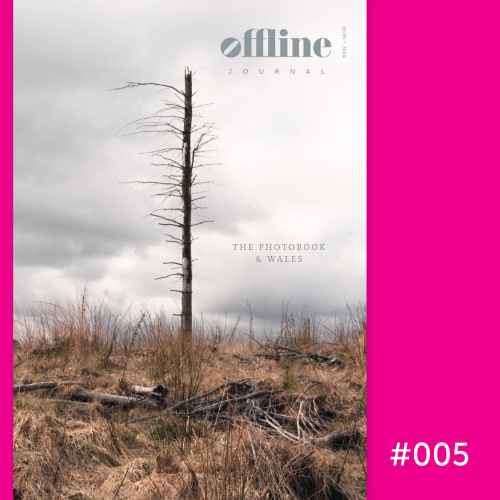 Offline Journal issue #005
'The Photobook & Wales'
special issue
£7.50
Published October 2020
150 copies
A4 Full colour
32 pages
Cover image by Paul Cabuts

Offline Journal #005 :
THE PHOTOBOOK & WALES
Special 3rd Birthday issue
Introduction
Ellie Hopkins & Brian Carroll
/ co-editors
Common Cause
/

photobook review
Paul Cabuts reflects on an influential Welsh photobook published in 1982 and a theme still relevant today
Return / Yn Ôl
/

photobook review
The photobook that accompanied a major exhibition at the National Library of Wales is explored by Peter Evans.
Gallery Profile : Thru The Lens
Founder and curator Andra Milsome reflects on the first year of her new photography gallery in Hay on Wye.
The Photobook & Wales : A Timeline
A selection of influential and distinct photobooks
linked to Wales, produced past and present.
Not Still
/ photobook review
The new and highly personal photobook by photographer and educator Paul Cabuts is reviewed by Ellie Hopkins.
Reconnaissance - Wales
/ photobook review
Brian Carroll shares the story behind an extraordinary Koudelka photobook and exhibitions that accompanied it.
New & Forthcoming photobooks: 2020 onwards
Offline looks at photobooks and self-published zines being produced in Wales during - and despite - the Lockdown.
Progredior / Advance
Photographer Rhodri Jones reflects on his own
experiences in publishing his work, and looks forward to his next photobook.